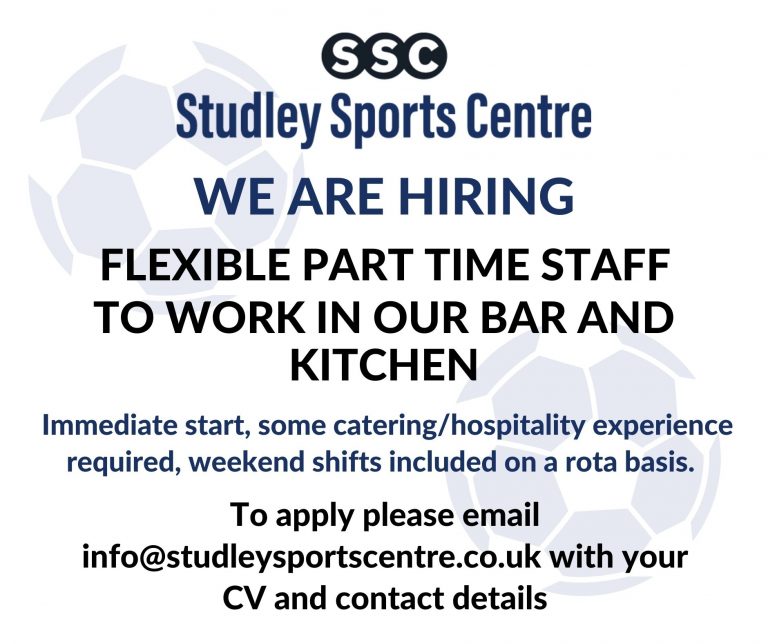 FLEXIBLE PART-TIME STAFF (to cover both bar and kitchen shifts)
We are looking for flexible Part-Time staff to join our team covering our bars and cafe kitchen.
To start ASAP.
Part-Time Hours – Evening and weekend shifts available. Weekend shifts are included on a rota basis.
Some experience working in hospitality or a busy catering establishment is required.
Ideally, you will be able to cover shifts working our bar and cafe kitchen where required. However, if applicants feel they are better suited to a specific area we can offer flexibility.
A driving license or your own transport is preferable due to the availability of public transport to our venue.
To apply please email your CV and contact details to info@studleysportscentre.co.uk.
If you are looking for part-time work, we might just have the perfect job for you!
Do you love meeting new people?
Can you pull a mean pint or are your bacon sarnies the tastiest in town?
We are searching for Part-Time Bar Staff to work in our main bar and function room bar and a Weekend Cook to manage our on-site kitchen for weekend matches and training (the menu is mainly breakfast sandwiches, burgers and chips and hot/cold drinks).
Flexibility and reliability are key for these roles, and due to our location and the working hours, it would be advantageous to have access to your own transport.
Please get in touch if you are interested in working with us and we can tell you more. We are a friendly local venue for sport and socialising with some great opportunities available!
Email info@studleysportscentre.co.uk or call 01527 853817.